About the Site
Technical Details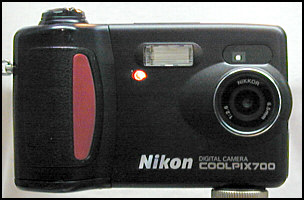 I used a Nikon Coolpix 700 camera to photograph the Bessa-R. For most of the shots, I placed the Bessa-R on a sheet of white paper. I took them on the fine setting, which yields 1600 X 1200 images that are roughly 800k. I brought them into my image editor -- Micrografx Picture Publisher -- cropped, adjusted the gamma, brightness and contrast, resized and then sharpened the images before saving them as JPEGs. I tried to keep each photo between 30k and 50k, although some of the files are larger and some are smaller. The key is in finding a balance between image quality and reasonable file size.
I've been using Micrografx Picture Publisher for about nine years, and I feel very comfortable with it. I'm not involved with prepress, and most of what I do involves making changes to photos. I don't feel a need to have Adobe Photoshop — even though it's seen as a requirement for the "serious" photographer. Just as it often makes no difference in what camera you use to take a photo, I think the same holds true for your image editor.
For some of the clip art, such as the "E-Mail Me" envelope at the left, I used Micrografx Draw 6.0 to create the item, which I imported into Picture Publisher and then saved as a GIF. For all of the GIFs on the site, I used ULead GIFSmartSaver to reduce the number of colors, which reduces the file size.
The site was put together with Microsoft FrontPage 2000. I found a page layout that I found attractive and then used that as my template. I turned off Themes. I've used other HTML editors, including a plain-text editor, IBM Top Page and Macromedia Dreamweaver. For us nonartists, FrontPage is a good tool. It's easy to move between HTML, Normal and Preview, and the learning curve is easy. With this version, Microsoft has done a good job of not littering your HTML with a lot of extraneous code, and it doesn't change HTML that you wrote into HTML code that Microsoft prefers. That really irked me in previous versions of the program.
I also like FrontPage's tracking functions. If you rename a page or piece of art or move a file into another directory, it updates the hyperlinks.
I am using a Web host that offers FrontPage extensions, which allows you to do some cool things, such as easily add a counter. You can accomplish the same thing through Javascript, but sometimes I don't mind taking the easy approach.
The other Javascript on the site I inserted by hand — very tedious work.