Carl Zeiss Triotar, f/4.0, 85mm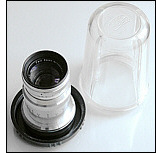 The postwar coated Carl Zeiss f/4.0 85mm Triotar (that's a mouthful to say at once) is the Rodney Dangerfield of the Contax rangefinder lens lineup. It gets very little respect from users, which is a real shame. On the other hand, it makes it a true bargain.
This lens is a triplet -- which means it's composed of three lens elements. Most triplets perform best at smaller apertures and tend to be soft when shot wide open. However, it's been my experience (albeit limited) that a Carl Zeiss Triotar will outperform most other triplets, regardless of aperture. This makes the Triotar a viable low-cost alternative to the more costly f/2.0 Sonnar. The tradeoff with this particular lens is speed.
The Triotar that I bought was in excellent condition and came with the storage "bubble." The lens barrel was in very nice condition, and the glass was exceptionally clean with the anti-reflection coating intact. Focusing the lens was a bit stiff, but 30 minutes on the workbench took care of that.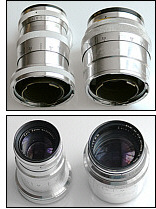 The dimensions of the lens are quite compact. The barrel is narrow, owing to the slower f/4.0 speed. The lens itself is slightly longer than its fatter and much-coveted sibling, the f/2.0 85mm Sonnar. The Triotar also is noticeable lighter, which you would expect when you compare the two side-by-side.
Mounting and using the lens is just like any other lens for the Contax. I would compare its physical operation to being very similar to the 135mm Sonnar. Set the lens to infinity when mounting and dismounting. Make sure the body is at infinity when you mount the lens. You might have to turn the lens to infinity after mounting as the lens helical often rotates slightly -- the lens will engage the body helical with an audible "snap."
The lens is very easy to use. Much the same with the other non-50mm lenses for the Contax, your best bet is to use an external viewfinder for composing your photos. The turret finders are a nice option, because you can use them for multiple lenses, and also because they allow you to compensate for close ups. This is particularly important if you'll be shooting portraits, because parallax can be an issue.
About this test
In several Internet discussions, the performance of the Triotar came into question. I contended that the Triotar is a very good performer and shouldn't be dismissed simply based on the fact that it's a triplet. Others seemed to feel that the fact that it is a triplet meant that the lens couldn't perform adequately when shot at its maximum aperture.
That got me thinking: How does the Triotar perform wide open? Can I back up my claims with some real results?
So I set out with a short roll of Agfapan APX 100, a Contax IIa and the Triotar. For this test, I only shot wide open ... all photos were taken at f/4.0. Exposure was adjusted by changing the shutter speed.
Conclusion
How did the Triotar do? I feel safe in saying that the Triotar will easily beat the pants off almost any other triplet on the market and give other lenses a run for their money. Sharpness from edge to edge is very good to excellent, regardless of whether I was shooting from closeup or at a distance. Distortion is very well controlled -- it's negligible and not an issue. And there is no detectable vignetting. I can see no reason why you couldn't use this as a portrait lens.
It's not a perfect lens, nor should it be. It's a triplet. If you work within its limits, I think that you'll find that it's very suitable for your needs.
Check out the two larger versions using Zoomify. Your browser will need to have the Macromedia Flash plug-in installed, which shouldn't be a problem. If not, get it here. One shot was from roughly five feet. The other is infinity.
The photos: All shot at f/4.0
1.



100k

2.



117k

3.



88k

4.

55k
5.



86k

6.



76k

7.



79k

8.



75k

9.



79k
Processed in Rodinal, 1:50, 17 minutes, 70°F.
1. Heinz Hall Plaza benches – Shot through the fence. Focus point was the benches.
2. Brick wall – This is the usual lens test for corner sharpness. Shot from about five feet. See a larger version that allows you to zoom in on different areas -- this is the original scan without any sharpening.
3. Buildings – Just a vertical shot. Nothing special.
4. Handrail – Shot from about five feet away. Smooth tones and nice rendition of out-of-focus areas.
5. The walkway – This walkway used to go from the parking garage to Horne's department store. The Horne's building is now owned by a health insurance company. In the background is PNC Park. See a larger version that allows you to zoom in on different areas -- again, the original scan without any sharpening applied.
6. Champions – A shot of the banners that grace the streets of Pittsburgh following the Super Bowl victory.
7. Closed – A shot of the sign near the front entrance of PPG Plaza. Not sure why they close it -- maybe they don't want people falling down the steps in the winter.
8. Statues – Not sure what these people are. I'm generally in a bit of hurry these days to walk the four blocks to the office so I can get out of the freezing cold. Again, nice rendition of the out-of-focus regions.
9. Snoopy – This sits on a sidewalk, and for the life of me, I can't explain what it is, why it's there, and why no one has destroyed it.
» More photos: Here are five photos (in a Flash display).
» Even more photos:
1. Iron fence -- This was the first shot. I don't believe it was at f/4.0, because it was a sunny day, and this was in bright shade. If I recall, I shot it at f/5.6.
2. Three leaves -- Another one at f/5.6. One of the leaves is just starting to turn. Shot from a fairly close distance.
3. Ramp to the bridge -- I shot this at f/4.0. This ramp leads to the Ninth Street Bridge, one of the "Three Sisters," as they're called.
4. Peeling bark -- I think this might have been f/5.6 at 1250. As I mentioned, it was a very bright day.
5. Fence No. 1 -- The first of three shots at f/4.0. This was near the David L. Lawrence Convention Center, which hangs over the 10th Street Bypass and the walkway that runs above the river. It provides nice shade, and for me the opportunity to shoot wide open. I'm shooting from a three-quarter angle.
6. Fence No. 2 -- I stood very close to the fence. I didn't press myself up against it, as I didn't want the fence to move.
7. Fence No. 3 -- For this shot, I set the lens to its minimum distance (0.9 meters) and moved in until the leaf that was hanging through the fence was in focus. By the way, those two red ovals are traffic signals. Notice how they rendered as ovals, rather than circles. It's because the lens was not perpendicular to the plane on which the lights sat.
8. Slightly further down -- Same fence, but another section. This one is to illustrate corner-to-corner performance of the lens when shot wide open.
A closer look at No. 8
These can be interesting only to the extent that it gives you an idea of how well a lens performs in a certain situation. Pixel-peeping, as this often is called, is used to support or reject a point of view, so take this for what it's worth. It's doubtful that most photographers would every enlarge a photo to this dimension, although I suppose there will be instances in which you might want to enlarge a very tiny portion of an image. At this point, however, you begin to hit the limitations of the 35mm format, more than limitations of a particular lens.
In this case, I shot a chain-link fence at maximum aperture (f/4.0) from a distance of about four feet or so. I didn't measure.
This larger shot has highlight areas that link to popup versions of each corner and the center. As you can see, sharpness falls off very slightly in the corners but is imperceptible when viewed at normal sizes up to about 8x10, I would guess. Stop the lens down to f/5.6 or f/8.0, and it's no longer an issue.
There is no discernable vignetting or distortion. Overall, an excellent performance for a triplet.