---
Kodak Medalist II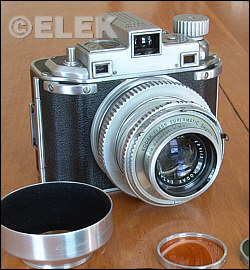 ---

Style, film format
6x9 rangfinder, 620 roll film

---

Lens, shutter
Coated f/3.5 100mm Kodak Ektar, Kodak Flash Supermatic Shutter

---

Photo quality
Very good

---

Ergonomics
Very large and somewhat ungainly

---
In this corner, weighing in at 3 pounds, 2 ounces with an equally hefty price of $262 (in 1946) was the Kodak Medalist II. It's a beast of a camera that carries many unusual features. Like nearly all of Kodak's medium format cameras from this period, it uses 620 film.
Where to start? First off, this replaced the original Medalist and is similar in operation to the first model. The one notable change is that the fine focus wheel was replaced in the II with a flash-synch socket.
There are quite a few features that make the Medalist II different from most other cameras on the market. The back is doubled-hinged with the option to remove. There are two small sprung posts on either side that allow the back to swing open from either the left or the right. Squeezing both simultaneously allows the photographer to remove the back completely.
Focusing is accomplished by the large (the largest) serrated wheel that sits at the base of the lens. The exposed double helical moves dual prisms that provide a true horizontally split image. Another window for composing your photo sits just above the rangefinder window.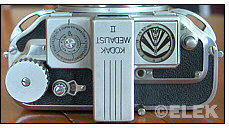 The camera has a smooth bulbous shape, making it somewhat difficult to keep a firm grip on the camera, which at 3-plus pounds is no point-and-shoot. Advancing the film also tensions the shutter, and an auto-framing mechanism makes it simple to use. You only need to line up the first shot. It works well.
The shutter release on my camera is slightly stiff, and Kodak suggests that you support the camera from below with the thumb of your right hand when tripping the shutter.
There also are some peculiarities to the camera, setting the shutter speed, loading the film and other aspects, which really makes it almost a necessity to have the owner's manual (take a look at my "Manuals").
The quality of the photos is very good. Wide open, the lens tends to give circular backgrounds. Stopped down, it's very sharp.
Some people have converted the camera to accept 120 film. I can tell you that it involves boring out the film chamber. As it is, a 620 spool fits tightly into the camera with no room for the larger-circumference 120 spool.