---
Rollei 110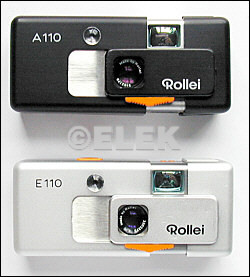 ---

Style, film format
Push-pull body using 110-cartridge

---

Lens, shutter
Coated 23mm f/2.8 Tessar, leaf shutter

---

Photo quality
Very good

---

Ergonomics
Excellent

---
Like other camera makers, Rollei sought to have some kind of offering in the 110 market, which became quite popular in the 1970s and 1980s.
These little Rolleis -- the A110 and the E110 -- used a push-pull design that unlocked the camera, tensioned the shutter and advanced the film.
These were high quality cameras, boasting a metal shell and a sharp focusing Tessar lens. For flash photography, there was a flash-cube adapter that connected to the side of the camera.
Focusing was accomplished by the orange slider under the lens that was coupled to symbols in the viewfinder: person, people, mountain.
The cameras were sold in attractive boxed sets that included the camera, instruction manual, flash cube adapter, snake chain and leather case in a small hinged container.
I used one of these quite often in the early 1980s, and it took very good photos, considering the tiny negative.
The cameras are nicely designed, although they use some plastic gears that should be metal. That's one of the things from the 1980s though.
It's too bad that 110 film isn't widely available today.