---
Kodak Nagel Vollenda Type 48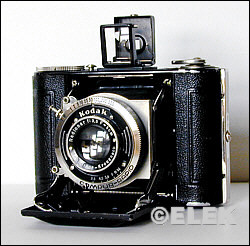 ---

Style, film format
Folding 127 roll film

---

Lens, shutter
Uncoated 5cm f/3.5 Schneider-Kreuznach Radionar, Compur-Rapid

---

Photo quality
Good

---

Ergonomics
Very good

---
Nagel Camerawerks of Stuttgart, Germany, is best known for its line of Retina cameras. But for many classic camera fans, it also is known for producing some other fine offerings.
The diminutive Vollenda uses VP127 roll film. It's a cute little camera, which is how most people describe it.
It's a small folding camera that was first made in the 1930s. It easily tucks away into a pants pocket or jacket.
Also hailing from the House of Nagel, you can see the fine little touches of engineering, such as the chrome bed release or the folding key.
It's also a miniature version of the Duo 620, which came out of the Nagel Camerawerks at about this time.
This camera has an uncoated Schneider-Kreuznach Radionar set in a Compur-Rapid shutter. This camera still has the small plunger to release the shutter. This piece is often missing from these older cameras.
Update: I also have picked up another Vollenda that has a Carl Zeiss Jena Tessar lens. See photos taken with both cameras by using the link below.