---
Zeiss Ikon Super Nettel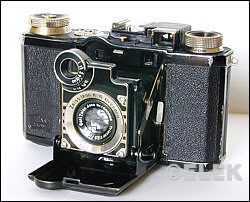 ---

Style, film format
Folding 35mm with separate rangefinder, viewfinder windows

---

Lens, shutter
Uncoated 50mm f/3.5 Triotar

---

Photo quality
Good to very good

---

Ergonomics
Easy handling, but viewfinder partially blocks access to rewind knob

---
Produced between 1934 and 1938, this camera was called the "poor man's Contax." Actually, there were several Zeiss Ikon cameras that were called that, and this is one of them.
This is a folding 35mm camera with a 5cm f/3.5 Triotar lens. A 5cm f/2.8 Tessar also was offered,
It features the Contax's vertical metal shutter, and many of the parts, such as the film advance, frame counter and rewind knob match closely either the Contax I or Contax II.
The corners of the body are gently angled, and the black enamel paint works well with the black leather. The front lens panel has an art deco look that is very attractive.
There is an accessory shoe that holds the viewfinder for a closeup lens set.
The camera was not flash synchronized.
My sole complaint about this camera is that the viewfinder housing sits very close to the rewind knob. Rewinding the film can taken an inordinate amount of time.