---
Cosina Voigtlander Bessa-R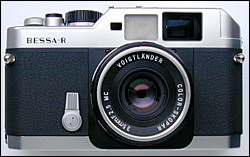 ---

Style, film format
35mm interchangeable lens rangefinder system

---

Lens, shutter
Coated f/2.5 35mm Color-Skopar, vertical metal
blades

---

Photo quality
Excellent

---

Ergonomics
A bit more plastic than I would like. Not a fan of the bump on the back

---
This camera holds a special place in my life, as I largely credit (or blame) the Cosina Voigtlander Bessa-R for drawing me back into photography.
The Bessa-R is a great camera for someone looking to get back to the basics.
I'll go out on a limb and say that the Bessa-R is the camera that helped Cosina establish itself with the rangefinder community.
What's not to like? A camera that could use either a new line of excellent Cosina lenses or nearly all of the existing 39mm thread offerings from Leica, Canon, Nikon and others. A body with a great viewfinder and modern electronic metering with an advance lever and a rewind crank.
Cosina outdid itself when it came to the lenses for this system. Some of the ultrawides were first made available with the viewfinderless Bessa-L. The newer lenses all have solid reputations with photographers, and a visual inspection reveals why. The all-metal lenses are nicely finished, feel very solid and are optically excellent. I've read very few complaints about any of the Voigtlander lenses, and I myself never had any issues with them.
On the downside, the Bessa-R is a bit flimsy because of the prolific use of plastic, which makes me worry about its long-term durability. That little thumb hump just below the film advance has always puzzled me.
And Cosina apparently struggled mightily with rangefinder misalignment. I've seen it mentioned in too many reviews and Internet postings for it to be an isolated problem.
But that shouldn't dissuade you from considering this camera. Although it's out of production, it can still be readily found on Internet auctions and also through member sales on several photo forums.
If you're looking to simplify your photography, give the Cosina Voigtlander Bessa-R a look. You won't be disappointed.