---
Zeiss Ikon Ikonta 520/2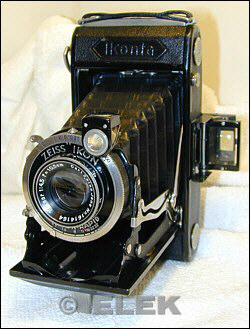 ---

Style, film format
Folding 120 roll film, zone focus

---

Lens, shutter
Uncoated f/4.5 10.5cm Carl Zeiss Jena Tessar,
Compur-Rapid

---

Photo quality
Excellent

---

Ergonomics
Despite its size, very easy to hold

---
This camera came to me from Scotland for about $55. I think it's one of the best deals I've ever gotten, and here's the reason why:
The Ikonta 520/2 uses 120 roll film. Fitted with an uncoated 10.5cm f/4.5 Carl Zeiss Jena Tessar lens in a Compur-Rapid shutter, it can take either eight 6cm x 9cm or 16 6cm x 4.5cm shots. Skip the smaller negative and go for the 6 x 9. If you haven't seen a print from one of these cameras, then you're in for a real treat.
The Tessar lens -- one of the classic lenses of all time -- captures fine details that escape the naked eye.
Sure, you have to guess on the focusing distance, but after a few tries, you'll realize that it's not that difficult to do.
All I can tell you is that the photos from this camera put modern cameras to shame.
Any tiny photo that I place here won't give justice to the resolving ability of the Tessar lens. Check out these two photos that use Zoomify:
• American Club in Hong Kong (This was taken from the 17th floor of a nearby apartment building.)
• Panorama from Hong Kong's Peak (This was created from three photos taken about 10 minutes apart from three different locations on the viewing platform.)
And then view my photo of the Great Wall.