---
Vivitar 35CA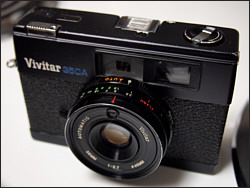 ---

Style, film format
Compact fixed-lens 35mm rangefinder

---

Lens, shutter
Coated f/2.7 38mm Vivitar lens, Copal leaf shutter.

---

Photo quality
Very good

---

Ergonomics
Very good

---
I had planned to talk about the move toward smaller cameras that was taking place during the 1970s, but I think that I'll get to the point: This is the same camera as the Konica C35 Automatic, and both were made by Cosina.
Like the Konica, this is an easy-to-use 35mm rangefinder that takes very good photos. Both use the same program trap-needle autoexposure system coupled to a Copal shutter with a top speed of 1/650.
The Vivitar camera has an f/2.7 38mm lens with the eye for the cadmium sulfide meter sitting just above it.
The shutter release is a rectangular metal tab that sits flush with the top deck. I think you have to press it a bit too deeply to trip the shutter.
You can focus as close as three feet, and the frame lines slide left and right slightly to compensate for horizontal parallax errors. There are small marks in the viewfinder when shooting up close.
The camera also has a self-timer and a true hot shoe for electronic flash. You advance the film and tension the shutter with a single short throw. The advance has a plastic tip for comfort.
The camera takes a single 675 cell, and a hearing-aid battery works very well today, despite its shorter life. The meter is always on, so using the lens cap or keeping the camera in its case should prolong the life of the battery. The ASA range is 25-400.
The only manual shutter speed is B, and there is no ability for the photographer to set the aperture. It's a pleasant little camera that requires little of the photographer, other than to focus. The meter is accurate in most situations, although use of the trap needle system can help in tricky lighting.
However, this camera and others like were squarely aimed at the amateur. It was the point-and-shoot camera of that era and overall is a very nice little camera.
Comparing Features: Vivitar 35CA vs. the Konica C35 Automatic
Vivitar 35CA

Konica C35 Automatic

---

Camera type
Compact fixed-lens rangefinder
Compact fixed-lens rangefinder

---

Lens
f/2.7 38mm Vivitar
f/2.8 38mm Hexanon

---

Filter thread

46mm

46mm

---

ASA range
25-400
25-400

---

Meter type
Cadmium sulfide, trap-needle.
Programmed autoexposure with a range of 1/30 at f/2.7 to 1/650 at f/14.
Cadmium sulfide, trap-needle.
Programmed autoexposure with a range of 1/30 at f/2.8 to 1/650 at f/16.

---

Battery

Single 675 cell
Single 675 cell

---

Shutter
Copal
Copal

---

Focusing range
Infinity to 3.5 feet
Infinity to 3.5 feet

---

Self-timer
Yes
Yes

---

Hot shoe / Metal tripod socket
Yes / Yes
Yes / Yes

---