---
Pentax Auto 110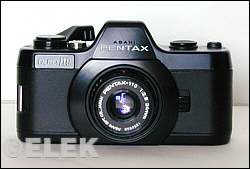 ---

Style, film format
Single-lens reflex 110-cartridge film with interchangeable lenses

---

Lens, shutter
Coated 24mm f/2.8, leaf shutter

---

Photo quality
Not tested (reportedly very good)

---

Ergonomics
Two-stroke film advance; has optional motor wind that should make camera easier to hold for large hands

---
In the late 1970s, with the 110 film format still very popular in the amateur market, Pentax rolled in with the Auto 110, likely as an answer to Minolta's surprisingly popular SLR 110 offerings.
The full system came with a winder, a flash, three lenses, a leather slipcase, filters and lens hoods. It looked and was impressive.
I haven't had a chance to use this, because Hong Kong simply doesn't bother with 110 film. And even if I could get it, I would have no place to develop it. No, I'm not interested in developing the film myself right now.
In 1980, I bought a complete Pentax 110 kit for my brother, who hassled me for weeks about getting one of these. I finally picked one up from the BX (Air Force Base Exchange). He promptly turned around and sold it to someone else at a profit!
In use, the camera features a double-stroke film advance. The viewing screen is surprisingly bright, and images snap in and out of focus quickly. The focusing ring is a bit tiny, but considering the size of the camera, that's no surprise.