---
Zeiss Ikon Ikoflex I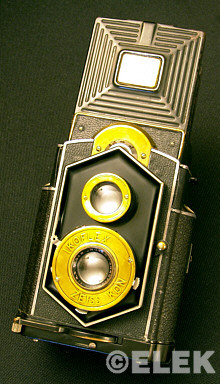 ---

Style, film format
Twin-lens reflex

---

Lens, shutter
Uncoated f/4.5 Novar in Klio shutter (I think)

---

Photo quality
Good but ...

---

Ergonomics
Good, except for hood

---
The Ikoflex arrived on the scene in 1935 as an answer to the popular Rolleiflex. Zeiss Ikon didn't like to miss out on any market, and so it developed and released the Ikoflex I.
This is often called the "coffee can" model, although I'm still trying to figure out exactly what that means. In any case, it's a most unusual camera with several features that set it apart from other TLRs:
• The camera uses a lever mounted below the lens to advance the film. It's very effective and simple to use. A smaller lever below that resets the film counter. There are film counter windows on either side of the viewfinder. As you peer into the viewfinder, the one on the right is for 120 film. The one to the left is for use when the camera is loaded with 620 film. Pretty ingenious actually.
• Focusing is accomplished via the lever that is next to the lens panel. It's lightly sprung so that returning to infinity is a breeze. It sounds clunky, but it's actually quite workable.
• A depth of field scale is engraved above the distance dial on the front of the camera. I never used it.
• The film is loaded by removing the bottom, which holds both spools and the pressure plate in this fairly large assembly that you don't want to drop but probably will.
With my camera, some enterprising person removed all of the paint down to the brass on the viewing and taking lens bezels, the depth of field scale and the Zeiss Ikon logo and then applied a thick, uneven coat of lacquer. I wish they hadn't done that.
The photos came out very good, although the cleaning marks on the lens contributed to some central flare, which you can see in several photos.
This is a heavy camera, and it easily outweighs a Rolleiflex. It brings to mind the Contaflex TLR, in its weight and general shape, especially the fact that it has "shoulders." The weight of the camera makes for a stable shooting platform, but it also is quite tiring to have this hanging from your neck all day. I kept it in a photo backpack.
For some reason, Zeiss Ikon chose to outfit the Ikoflex I with only a Novar. Future models offered either a Tessar or a Triotar, and the postwar model returned with a coated Novar or Tessar.