Olympus 35 RC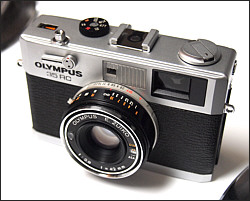 ---

Style, film format
35mm fixed-lens rangefinder

---

Lens, shutter
Coated f/2.8 42mm lens, six-speed leaf shutter

---

Photo quality
Excellent

---

Ergonomics
Good overall, although the aperture dial is at the base of the lens.

---
In the ongoing quest for the perfect camera, here is a camera that might catch your eye.
It's a small camera, among a stable of smaller rangefinders that Olympus made on its way to the OM series, which led other camera makers to rethink their approach to the full-size SLR.
There are many reasons to like the Olympus 35 RC: Excellent viewfinder, aperture and shutter speed display in the viewfinder and a rangefinder.
Additionally, the camera has manual shutter speeds (although no slow speeds), manual aperture selection and either manual exposure or shutter-priority autoexposure. Plus, it has a self-timer.
This is a very easy camera to operate. Its film advance is a reminiscent of the one that is used on the Pen F/FT half-frame camera, including the curved end. The film advances easily with a single short stroke or in multiple strokes.
There is a shutter speed dial on the top of the camera. The marked speeds are 500-250-125-60-30-15 and B. The aperture dial is at the base of the lens next to the camera body and takes some effort to rotate. It also is where you can set the camera to autoexposure or turn the meter off.
The camera called for a 625/PX13 mercury cell, but a 675 hearing-aid battery with an "O" ring works very well. The zinc-air batteries don't last nearly as long as the original mercury ones, but they're readily available and don't cost too much.
The viewfinder has a very good rangefinder patch, which makes focusing simple. There are parallax marks for closer distances -- typically when you're shooting closer than nine feet, I believe.
The aperture is a four-blade design that gives a diamond-shaped opening. The aperture, however, is offset from vertical.
The thing that makes the camera a good choice for novices or experts is that there are no surprises with the camera. And that just leaves you with the process of taking your photo.