---
Cosmorex SE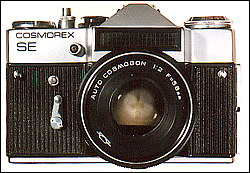 Not my photo
---

Style, film format
35mm interchangeable lens single-lens reflex

---

Lens, shutter
f/2.0 58mm Cosmogon, cloth focal plane

---

Photo quality
Pretty decent, as I remember

---

Ergonomics
Heavy

---
This was the first camera I bought way back in the mid-1970s. Maybe it was 1974 or 1975.
But to give you a hint, the year before, I made the big purchase of the family -- a Rockwell calculator with a red LED display that was ultracool. I later replaced it with a Bowmar Brain with about 35 functions.
That year, I had collected about $100 in Christmas tips from my paper route, and I knew that I wanted an SLR. So I headed to downtown Pittsburgh with $100 burning a hole in my pocket and bought the only new SLR that I could afford.
Of course, in hindsight, I should have bought a used Retina or a Pentax or Petri or anything else, but I was only 14, and I wanted a new camera, not someone else's used piece of crap.
So I bought the industrial sized Cosmorex, possibly only outweighed by the Zeiss-Ikon Contarex.
I took photos at school, high school basketball games and around the house. I even took it to Washington, D.C., for an Explorers Conference. When I enlisted in the U.S. Air Force, it ended up going with me to Loring Air Force Base, Maine. By then, it was time to move on, so I bought a small Konica rangefinder and later a Pentax MX.
The Cosmorex was now passé. It died by my inexpert hands. I took it apart, couldn't get it back together and dumped it into the trash. Recently, with its untimely death still haunting me, I bought another Cosmorex for $15 from eBay, and the photo on this page is from the listing. Sadly, it doesn't work. But it will someday!