---
Nikon FE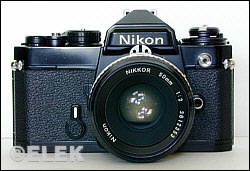 ---

Style, film format
35mm single-lens reflex with interchangeable lenses

---

Lens, shutter
Coated 50mm f/2.0 Nikkor, electronically timed vertical metal blades

---

Photo quality
Excellent

---

Ergonomics
Excellent lightweight camera

---
This is the second Nikon I bought back in 1980. In the 20+ years that I've owned it, it's never failed me.
This was Nikon's first body that began to use some plastic in the top deck. Also, the shutter was battery dependent and only offered just two speeds -- B and 1/90 -- if the batteries failed. There was a lot of talk about both of these things at the time, and some wondered if the new breed of Nikons could stand up to the punishment that the pros like to dish out and how a battery-dependent camera would be accepted in the marketplace.
Nikon also marketed this camera to the amateur market, whose users probably weren't as tough on their cameras.
One area that was not a good design was the meter switch, which was the film advance lever. Moving the film advance lever to the "standoff" position turned the meter on, and it remained on until the film advance lever was pushed back toward the body. That made it all to easy to run the batteries down. If I recall, that happened to me once, and that was another thing that was mentioned in various reviews, if I recall.
It features aperture-priority autoexposure with a vertically traveling electronically timed metal shutter. The slower speeds no longer featured the whir of the timing mechanism. Now, it's simply silent.
Unlike previous Nikon cameras, this had no mirror lockup, atlhough the self-timer can be used for that.
It takes the AI series of lenses, and I suppose the AIS as well.
It's an excellent camera, and one that has served me quite well. I've recently replaced the foam seals, and that's been the extent of the service.
As a side note, my friend and roommate Paul Asay bought a Nikon FM at about the same time. He picked up the classic 43mm-86mm zoom. Nice little lens. I think he still has and uses it. Maybe I should replace those foam seals for him.