---
Kodak Signet 35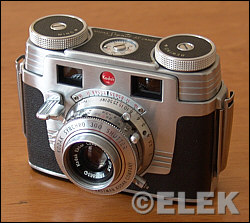 ---

Style, film format
Unmetered 35mm rangefinder

---

Lens, shutter
Fixed coated f/3.5 44mm Kodak Ektar, Kodak Synchro 300

---

Photo quality
Very good

---

Ergonomics
Be careful not to block the rangefinder windows

---
The diminutive Kodak Signet 35 replaced the Kodak 35. It's a very stylish camera and stands in stark contrast to the horror of a box that preceded it.
The Signet 35 was the first in a series of Kodak cameras that carried the Signet name into the 1960s. It's the simplest of the lot, and in some ways the most elegant, reinforcing my belief that simpler can be better.
Kodak had a habit of changing body styles, often not to add any new useful features but just to have a new model on the market. That's unfortunate, because the Signet 35 was really almost perfect when it debuted in 1951 and aside from its diminutive size, it didn't need much improvement. This camera continued to be listed in the Kodak catalog until 1958.
Gone are the Kodak 35's garish protrusions and gears that jut out from different angles for no good reason. In its place is an attractive symmetrical body with a lacquered brushed-aluminum top deck, oversized knobs for advancing and rewinding the film and a coincidence rangefinder.
A red dot with "Kodak" is centered between the two rangefinder/viewfinder windows. Maybe this is where Leica got the idea.
It's a small camera, maybe a shade too small for those with large hands. I had to be careful when handling the camera to avoid blocking the rangefinder window. The viewfinder is bright, and the rangefinder patch is a triangle.
The front mounted shutter release works well enough, but again, you have to be careful not to block the rangefinder window.
The lens focuses smoothly, and the body covering -- not sure if it's leather or high-grade rubber -- provides a very grippable surface.
Like other cameras of the day, the back is removed from the body when changing film. The back also has a small exposure guide that is like a slide rule (anyone remember those?).
Image quality is very high with plenty of sharpness and contrast from the coated 44mm Ektar. The Kodak Synchro shutter tops out at 1/300 -- probably fast enough for the consumer market. Speeds were limited to B, 25, 50, 100 and 300. Again, probably plenty for the intended user.
Interestingly enough, the U.S.-made camera included a leather case made in Germany. The front snaps off the case, allowing the photographer to leave that part at home. Don't we wish that all classic camera cases offered this?