---
Super Ikonta III 531/16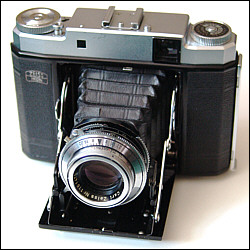 ---

Style, film format
120 folding camera with coupled rangefinder

---

Lens, shutter
Coated f/3.5 75mm Tessar, Synchro-Compur leaf shutter

---

Photo quality
Excellent

---

Ergonomics
Very good with predictable controls

---
In the 1950s, the era of the folding camera was drawing to a close. However, the Super Ikonta didn't slip quietly into history.
Built on the same platform as the roll-film Nettars and Ikontas, the Super Ikonta III 531/16 was a full-featured camera that lacked only an onboard light meter.
The Super Ikonta III carried on the tradition of the Super Ikonta B by providing autoframing, a sharp Tessar lens (although some cameras came with the Novar) and a couple rangefinder.
The powder-finished top deck is of a lightweight material but sufficiently rigid. The rangefinder is slightly more complicated than most systems that rely on two mirrors. There is an intermediate prism that sits between the two mirrors.
A small slightly non-circular plate sits behind the shutter and is connected to the lens bezel by an arm. The bottom edge of the plate moves another small arm up or down, which eventually slides the intermediate prism to and fro to allow the secondary rangefinder image to align with the primary image. Now, that was simple, right?
The edge of the collar is serrated, which allows you to focus with your thumb.
Loading the film couldn't be easier. You thread the leader onto the takeup spool and wind until the arrows on the film backing line up with two white marks on the body. Close the back, and continue winding. The advance knob will stop when it reaches frame 1. It assumes that the standard distance from the lines on the paper backing and the start of the emulsion are universally the same across all makes of film.
From that point, the film is autoframed, and unlike the older Super Ikonta B, you get all 12 shots, rather than 11.
Much like the Nettar and Ikonta, the camera is extremely easy to use and has the additional benefit of a coupled rangefinder. I'll mention here that the viewfinder image is very good, and I've found the camera very easy to focus in all situations, including a dimly lit room.
As I expected, the Tessar is extremely sharp. It's an excellent camera.