---
Rollei Rolleimatic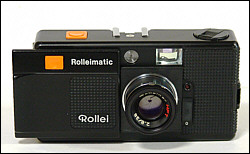 ---

Style, film format
35mm fixed-lens, zone-focus

---

Lens, shutter
Coated f/2.8 38mm Rolleinar, leaf shutter

---

Photo quality
Very good

---

Ergonomics
Very good but different

---
The Rolleimatic arrived in 1980, and has a very interesting story behind it.
This camera was the brainchild of Heinz Waaske, who also designed the excellent Rollei 35 and a number of other cameras.
The Rolleimatic's most unique feature is a multipurpose front panel that extends and collapses the lens, advances the film, tensions the shutter and protects the lens and viewfinder \when the camera is not in use.
The Rolleinar, from what I can tell, is a Tessar-type lens (four elements in three groups) and uses Rollei's HFT (High-Fidelity Transfer) lens coating process, which was a great state-of-the-art term for that era.
It's a solid camera with a nice bright-line viewfinder. The camera is mostly metal with some use of plastic, as you would expect a camera from the 1980. As is the case with most German cameras, there is no light-blocking foam to replace.
It's a unique camera with good ergonomics and solid functional design.