---
Nikon F2A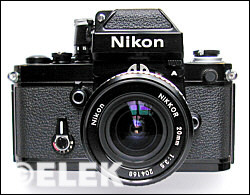 ---

Style, film format
35mm single-lens reflex system with interchangeable lenses

---

Lens, shutter
Coated 50mm f/2.0 Nikkor, horizontal titanium curtain

---

Photo quality
Excellent

---

Ergonomics
Heavy, durable camera (see text)

---
This was the first Nikon that I bought, and it definitely is the heavier of the two that I own.
The F2A was introduced in the mid-1970s as an evolutionary model in the long-running F series.
This model used the auto-indexing lenses, which eliminated the need to set the lens's minimum and maximum aperture by twisting and turning the ring after mounting.
This meter head is the old-style swinging match-needle design featuring a CdS (cadmium sulfide) cell in the head. In general, it's an accurate meter, and the needle is visible from the top of the camera. Both the shutter speed and aperture are visible in the large viewfinder.
Like most of the pro cameras, you can set the shutter speed dial in between settings from 1/80-1/2000. Flash synchronization is at 1/80.
Although the camera lacks a hot shoe, Nikon sold a small hot-shoe adapter that slid over the rewind crank and provides the necessary electrical connection for proper synchronization.
The self-timer can be set from a two- to 10-second delay. The camera also has a dual-purpose depth-of-field, mirror-lockup lever.
The body is extremely durable, but if that wasn't tough enough, there also was a titanium version of this camera.
This camera had everything for the pro: interchangeable screens and camera backs, metered and nonmetered finders and high- and low-speed motor drives. In short, if you wanted a camera that could do everything, this was it.
The only thing it couldn't do was operate quietly. It's not a camera you would use at a theater or as part of a covert op. But like the Timex, it could take a lickin' and keep on tickin'.
Black was definitely the "in" color, so I bought the black body back in 1980. I've used this camera recreationally and semiprofessionally when I was shooting a lot of sports. It's never failed me.