---
Nikon S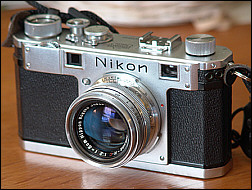 ---

Style, film format
35mm interchangeable lens rangefinder system

---

Lens, shutter
Coated 50mm f/2.0 Nikkor, horizontal cloth

---

Photo quality
Excellent

---

Ergonomics
Very good, but a heavy camera

---
If you took a Contax II and a Leica thread-mount camera, put them in a box and shook it for about an hour, a Nikon S would fall out when you were finished.
Most people say that the Nikon S is like a Contax, but in truth it borrows mechanical features from both the Contax and the Leica.
The Nikon S is a solidly built rangefinder that uses the Contax lens mount (although the pitch of the helicals is slightly different), the Contax focusing wheel, a removable back with locking keys and a single shutter speed dial. But it also has a number of Leica-like features that include a cloth shutter, a release that is set toward the rear of the camera, a rewind-advance lever at the front and a shutter-speed selector dial that spins when the shutter is released.
The camera itself is very sturdy -- and in fact is heavier than it needs to be considering its size.
The combined viewfinder/rangefinder is easy to use although some users -- especially those who wear glasses -- might find the reticle (or eyepiece) to be a bit too small. Under the top deck, you'll find the system uses two small prisms, much like a Leica, rather than a single long prism with a sliding wedge prism. In any case, it's very accurate.
Manually focusing the camera is simple, and the helical turns very smoothly. The weight of the lens makes the focusing wheel a bit impractical, or at least that's my own opinion.
Optically, the Nikkor lens is very good. It's a Sonnar design, so you would expect it to be sharp, and it doesn't let you down. I think it's even sharper than the original Sonnar.