---
Zeiss Ikon Super Ikonta 530/2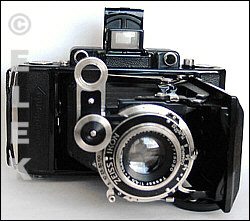 ---

Style, film format
Fixed-lens rangefinder, 120 roll film

---

Lens, shutter
Uncoated f/4.5 10.5cm Tessar, Compur

---

Photo quality
Excellent

---

Ergonomics
Read text

---
The Super Ikonta was one of the world's best cameras when it first arrived in the mid-1930s. This is an early 6x9 model, though not the earliest, because it has a left-hand shutter release. The earliest models used a small plunger mounted near the lens/shutter assembly.
Like other Super Ikontas, it uses rotating wedge prisms to achieve focus. The photographer first focused through one window and then framed their shot using the pop-up finder. It was slow going, but in the mid-1930s, a focusing system that was integrated with a lens was quite a technological feat.
This particular camera included the small metal frame that the photographer inserts into the film chamber and converts the Super Ikonta to shoot 6x4.5. This frame can also be used with the regular 6x9 Ikonta, as long as that camera has two windows on the back.
Using a 6x9 folding camera requires a firm grip, especially if you're shooting with a slower film. I find it best to grip the camera's lens door with the left hand, as if you're holding a hamburger. The index finger should be poised on the shutter release.
Unless you have extraordinarily long fingers, you need to reach forward to turn the focusing wheel.
Overall, it's an exquisite camera. I've shot a number of rolls of film -- both color and black and white, and I've always been pleased with the results.