---
Zeiss Ikon Nettax (35mm)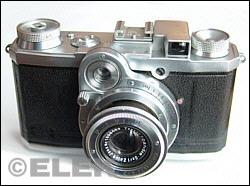 ---

Style, film format
Interchangeable lens, 35mm rangefinder camera

---

Lens, shutter
Uncoated collapsible f/2.8, 5cm Tessar, vertical metal shutter

---

Photo quality
Very good

---

Ergonomics
Good

---
The Zeiss Ikon Nettax arrived in the late 1930s and was made for just a few years. After World War II ended, the camera did not return, although Zeiss Ikon later produced a folding medium format camera that also was called the Nettax.
The prewar Nettax was built on the chassis of the Super Nettel, sharing the same camera frame, shutter, film advance and rangefinder system. The Nettax is a very sturdy camera, which also means it is somewhat heavy. A good bit of the weight can be attributed to the nickel and brass (uncoated) Tessar lens in the interchangeable mount.
Using the camera is very straightforward. Simply load the camera as you would a Contax or Super Nettel, fire off a couple of blanks and you're ready to go.
The Tessar lens is collapsible, making it more compact for storage. Focusing is accomplished via a post or tab that is on the left side of the lens. Unlike most 35mm rangefinders, you focus with your right hand. You can use your left hand, but it's a bit awkward.
There are separate windows for focusing and framing your shot. After you've focused on your subject, shift your eye slightly to the left and take your photo.
The shutter, which uses a series of interlocking brass slats, can cause camera shake, so it's best to keep a firm grip on the camera when releasing the shutter.
The Nettax is neither too big nor too small and is a joy to use. It's too bad that there are almost no other lenses available for it -- at least none that you can easily find.