---
Voigtlander Vito IIa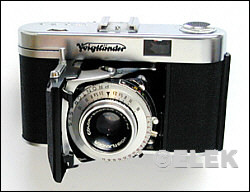 ---

Style, film format
Folding 35mm with zone focus

---

Lens, shutter
Coated 50mm f/3.5 Color-Skopar, Prontor

---

Photo quality
Very good to excellent

---

Ergonomics
Wonderfully easy

---
The Vito IIa was the last of the smaller folding cameras. Voigtlander produced a Vito III that was a much larger rangefinder camera that shares some features with the Prominent.
The Vito IIa is one of the friendliest, most pocketable folding 35mm cameras around. There are just two minor things that keep it from being an all-star camera:
It uses the Exposure Value (EV) system that locks the shutter and aperture dials together. The idea of the system was that you could get an EV reading from your light meter, set your camera to that number and then use any shutter speed-aperture combination. Good idea, but frustrating for photographers who like to stray from the pack.
This is just a minor quibble, but this camera would be excellent if it had a rangefinder, rather than being a zone-focus camera.
The nice thing about this camera is it has an excellent coated f/3.5 50mm Color Skopar lens set in a Prontor shutter. The camera is light in weight and folds into a compact package that is very easy to slip into a coat pocket.
The top deck of the Vito IIa is similar to the Vito B, as is the lever wind and film rewind.
In all, it's a very friendly little camera that isn't a bad choice at all for a classic camera.